Mission Statement
HELP US TO HELP THEM
The Long Valley First Aid Squad Auxiliary; they are not EMTs, they do not respond to emergency calls, however, they do hold a deep abiding respect for the members of one of our community's most valuable volunteer organizations and the service they provide. The auxiliary's fund-raising events throughout the year help to keep the Long Valley First Aid Squad well equipped and ready to go, but they can always use a few more members to share the work and perhaps allow the auxiliary to expand their efforts. The auxiliary members feel good about serving their community in this fashion and enjoy working together to do it.
The auxiliary's seasonal fund-raising events include: food concession stand at Ort Farm in October, plant sale at the Long Valley Woman's Club Annual Antiques Show in February, and the Easter Plant Sale at the Squad Building each Spring.
For more information, please call 908-876-4567 extension 5 or email Lvfasauxiliary@gmail.com
Buy-A-Brick Campaign
The Auxiliary supports the Long Valley First Aid Squad with fundraising events in order to keep them fully equipped and ready to go. We are always looking to welcome new members!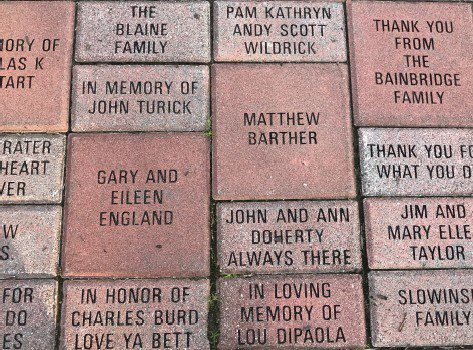 The bricks are placed in the Memorial Walkway at the First Aid Squad building on East Mill Road. This is a wonderful way to memorialize your family or a loved one, while helping the Squad at the same time.
The cost for each brick is:
4×8 inch: $100.
8×8 inch: $200.
To order, kindly complete our form.